Daughter is really getting into the whole Easter thing this year though I discovered it has snuck up on me this year. I suspect it has something to do with my considering the 25th to be sacred due to ANZAC Day, since I don't have the same attachment to Easter.
So I was going through my RSS feed looking at the Easter blogposts I'd starred and thought I'd share.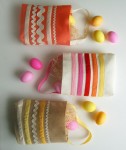 Firstly, I saw these Easter Egg Hunt Bags from Perl Bee (via The Crafty Crow and they instantly put a smile on my face because they reminded me of one of my favourite parts of ballet, the Character Skirts which were trimmed along the bottom part of the full skirt in much the same way as these bags. Ahhh. I think we'll be using some of our vast collection of wicker baskets though.
Then I saw this neat idea from Parent Hacks suggesting alternatives to chocolate and sweets, like Lego, for Easter Egg Hunts. Read their comments for some other ideas :)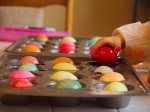 Parent Hacks had this other brilliant idea for using a muffin tray for dying eggs one colour (although I wonder what the dyes look like after the last egg has been done!)
Similar to the Egg stitchwork that I blogged about earlier in the month, Craftzine uncovered these sweet embroidery designs at The Split Stitch that are downloadable. I love what she's achieved so far.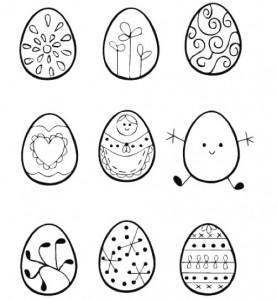 And finally, Chasing Cheerios blogged about an idea I hadn't heard of before, drawing on hot boiled eggs with crayons so they melt!