Random Open Tabs
I love to have many browser tabs open. My computer … doesn't; but it copes.
I thought I'd randomly (well, relatively randomly) share some of the tabs I have open at the moment.
Sheppard Software


I haven't spent a great deal of time exploring the site but I've liked what I've seen so far. There's a wide variety of games, quizzes and drills for learning various subjects.
I spent a good 1/2 hour procrastinating … err I mean working on my 101 in 1001 task of Learning the locations of countries. Well, actually I got hooked on learning the locations of capital cities in Oceania and I got quite good at it.
So you see some activities are age-less. Do you know all your capital cities in Oceania and where they are?
The Bulwer-Lytton Fiction Contest
This is the home of the contest where contestants battle for the honour of having written the worst first sentence of a book.
Some of the entries are not safe for work (NSFW) but there are some beautifully cringeworthy entries truely worthy of winning the title, like this one:
As the fading light of a dying day filtered through the window blinds, Roger stood over his victim with a smoking .45, surprised at the serenity that filled him after pumping six slugs into the bloodless tyrant that mocked him day after day, and then he shuffled out of the office with one last look back at the shattered computer terminal lying there like a silicon armadillo left to rot on the information superhighway.
Larry Brill, Austin, Texas (1994 Winner)
and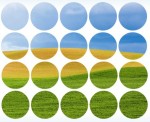 Financial Literacy Month
Well thought out site, with a sequential approach that can be jumped into and out of at any point. Some interesting tips in there as well as useful forms to utilise. Definitely worth a look if you're not 100% in control of your finances – and who is, right?