The Torchlight List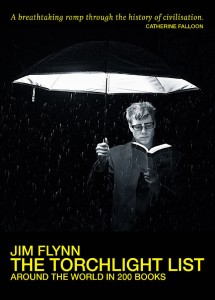 I heard about this book by Professor Jim Flynn while catching up on the latest episode of 60 Minutes where an individual claimed he was the smartest person in New Zealand based on the fact he could get a perfect score on a standardised IQ test. (I'll leave that particular topic well alone!)
So bearing in mind that I haven't read the book, here's what I've found out about it since I found the idea intriguing.
The full title is The Torchlight List: Around the World in 200 Books and to put it simply, the premise is that everyone can improve their education and knowledge by reading good books.
The book is only 120 pages long but appears to be a succinct, yet engaging journey through history. It isn't clear from articles and the like that I found online whether the list stays strictly in the history genre of wanders into other areas of study, though admittedly history can be such a far-reaching topic in itself.
The Otago Daily Times have a 3 page article about the book and author which is a really good read and a far better overview of the author's aim and opinions and they also have a 4 page edited extract from the book, which lists the books numbered 93 to 114. Each book name is inserted into the text amongst information on why the author considers it a useful read, tidbits of information and witticisms.
Despite how dry this idea for a book may sound, the edited excerpt drew me in and had my fingers itching to search out each book and get started.
It's fairly easy to see at a glance that this booklist on RadioNZ's website isn't the complete list of books but it appears to match up with the books mentioned in the description for the RadioNZ segments that you can listen to/download here. There are 12 episodes listed averaging about 10 1/2 minutes long.
My own forays into the world of Charlotte Mason's education theories and those of the Classical Education bring to mind the term "Living Books". These are books which immerse you in the subject you're studying, and let you breathe in the facts rather than have them pummelled at you. Certainly from my own childhood and latter years I garner and more importantly retain the most information when reading a book which tells a fact-based story rather than a dry tome that simply lays out the information.
Though having not succeeded at the Higher Education route myself, I certainly understand the value of a University Degree and those who achieve them (and vastly admire those who go on and continue their studies in academia).
However I do agree with Professor Flynn that a great education can be had through Self-Education. I'd add that it's important to remember that education is a life-long process and no one should consider themselves past learning.
The book is $33 RRP in NZ Dollars and I can tell you it's been bumped up to the top of my wishlist!