Daily Links for 23rd March 2010
Crafty Stuff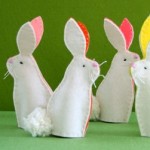 These

bunny finger puppets

(via Craftzine.com) are cute and the instructions are clear and make it look like quite a simple project, even going to suggest a set of them can be knocked out in an evening. The materials look like they shouldn't be hard to find at our closest Spotlight – though I suspect I'll be buying acrylic rather than wool or wool-blend felt there.
Here's a pattern for a knitted cowl scarf perfect for the coming winter months (via Craftzine.com). It's a knock off of a $US750 Burberry scarf which seems a horrendous amount to pay for nearly any piece of clothing, let alone a scarf.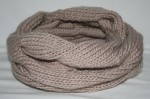 Homeschool Stuff
This site also falls into my 101 in 1001 category as one of my goals is to have a better idea as to where all the countries of the world are. PurposeGames (via The Homeschooler's Notebook) has timed map quizzes which I'm using to drill myself on country locations but also so much more.
Misc Stuff
Three articles drew my attention today about writing and they came from three different perspectives. The first, is entitled the Rare Handwritten Note (when was the last time you sat down and wrote a letter to someone?), the second is from about How to Blog When You're Not a Writer, and the final article is in a similar vein but from a scrapbooking perspective, But I'm Not a Writer.
If you're looking for an alternative to Google Analytics for whatever reason, I suggest you have a look at GoingUp! (via SmashingApps) It's a free site and you can utilise it to do most of what Analytics offers but also stuff it steers away from, for example, Google Pagerank and keyword ranking for alternative search engines.
This is getting a little eclectic but I wanted to make note of three more posts.
This one from CSS Tricks talks about changing the layout of web forms so that the information the user considers to be most important (eg the message containing the information they want to relay to you) at the top and the boring, standard inclusions at the bottom of the form. This helps apparently, to thwart user fatigue when filling out forms and makes a lot of sense to me.
This post is entitled The Missing Step in Planning and gives us a great rundown on what you should be thinking about and putting on paper before getting to the dreaded business plan. This list certainly would have helped me with my initial planning for my last venture and though I doubt the author will like my saying this, if all you get done is that list then you're better off than procrastinating doing a business plan completely.
I'm a big fan of the semi-cartoon-y landscape-y :) website design that is often accompanied by flash. Ajaxian highlights a new jquery plugin called Spritely which acts as an alternative to using flash in these kind of designs and I have to say my fingers are itching to have a play with it.
Tags: Blogging