Adventures in the Kitchen
Normally, husband makes all the meals but the new plan is for me to contribute in the kitchen more. Tonight was my first attempt and I have some mixed feelings about it.
I tried a Food in a Minute recipe since I figured it'd be easy and the ingredients wouldn't be a challenge. Pumpkin & Spinach Lasagne somehow got to the top of the list – no reason in particular really.
I replaced the fresh lasagne with dried sheet lasagne that I precooked before assembling it. I forgot to season the pumpkin and onion with pepper and had to replace the fresh Thyme, which apparently has disappeared from our garden, with dried Mixed Herbs. I opted for Edam cheese since we already had it and Mozzarella is a bit over-powering a taste I feel unless combined with another cheese. Oh and technically I bought a piece of squash that looks similar to pumpkin since it was less expensive.
I had two, no make that three, issues with the recipe. Firstly – Pumpkin takes me an awful long time to chop up. Secondly, it takes a long time to cook in a pan (I think if it had been simmering or boiled it would have been faster). And thirdly, my container looks like the same size to me as that in the photo (apparently a 12 cup lasagne dish) but each layer had to be put on quite sparsely and so the end result doesn't look anything like the photo shown with the recipe. I should probably also mention that I gave it 5 minutes at the end under the grill to give it more of a crust on top.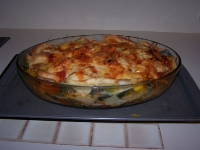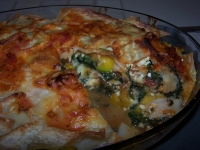 It was quite delicious and the husband, who had said he doesn't like spinach, enjoyed it immensely. Despite being the person making it, I didn't realise it was meatless until I'd finished my meal. There's a lot of food there and so it was quite an economical meal – in the short term especially so, since we had quite a few ingredients already. It took me 1.5 hours of prep and precooking to get it in the oven – and so took in total 2 hours. I wasn't expecting it to take that long so daughter had to have a meal served while it was in the oven. Damn you pumpkin!