Hello 2010!
I'm feeling a little rattled at 2010 having arrived already. I don't have all my goals for the year jelled yet, though I have some pretty good ideas as to the direction some parts of my life are headed, which is a good start I figure. So while I'm working on all that – have a photo.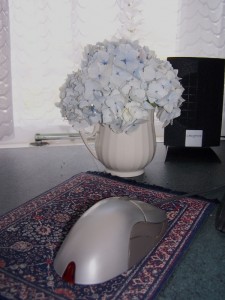 This is a tiny portion of my desk.
The flowers (hydrangeas) were picked and brought to me by my daughter yesterday, and are in a milk jug which is part of a wedding gift from my Grandmother – mainly because the vase I would have used has gone walkabout.
The mouse is one that works and I haven't seen an upgrade for it as left-hand friendly mice with side buttons let alone at a reasonable price are pretty far and few between. Ultimately, I'd love to have a wireless mouse and I'm sure the perfect mouse will fall in my lap when it's needed.
The mousepad is a gift from my Dad and is pretty cool. It's a mouse rug and my one is a digital replica of a Tehran Qum flower rug. It's really comfortable, is a great mousing surface and what makes it pretty cool is the image on it isn't printed on but each individual coloured thread is glued to the base to form the overall design.