Focus on Astronomy
With the warmer weather approaching, I've been keen to get out and reconnect with the night sky. Sadly, the weather hasn't been cooperating recently.
So here are some links to resources to start you off if you're interested in getting into some star gazing. All you need to start off are some warm clothes, a map to guide you so you can work out what you're looking at and a torch to see by (most people recommend the torch has red cellophane over it but I cope just fine without).
Southern Hemisphere Planisphere PDF download from PsychoHistorian from the 2009 International Year of Astronomy. Planispheres are usable throughout the year and irregardless of which year. Consequently, it doesn't have additional information relevant to particular months like planetary placement.
A clear explanation about planispheres is available on Wikipedia.
SkyMaps have a Southern Hemisphere sky chart for September 2010.
Additional information is included on astronomical events happening during the month as well as lists of highly visible objects by the naked eye and also by binoculars.
They also have downloadable monthly star charts for Northern hemisphere and the Equatorial region as well as a variety of other products to purchase.
The Royal New Zealand Astronomical Society have September Sky Charts and what I consider to be rather indepth information for watching the skies in New Zealand.
They also have a List of Solar System Events happening in September tailored to New Zealand – including that Daylight Savings starts on the 26th September at 2am (clocks going forward by an hour – Remember: Spring forward, Fall back). Scroll past the table of dates to get to the information on planetary movements.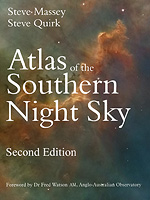 On my personal wishlist is the Atlas of the Southern Night Sky, of which the Second Edition is due out this month.
And getting back to my original problem, working out whether the night will be good viewing – this site may help. Skippy Sky has graphs of cloud cover predictions for NZ, Australia and some other countries.